Filters
Find here how you can use Filters
The filters menu is composed of 2 main options for each dimension of your dataset:
run the analysis on 1 or multiple segments of the dimensions
exclude some dimensions/segments from the analysis.

Filter:
Segment within a given dimension that you want to filter on. Just click on the button and select what you want to filter on.

Segment can also be filtered with a right click on the segment in the waterfall. The calculation will re-run automatically.
Filters options:
Compare: Activate this dimension as the comparison dimension (start and end definition)
Use reguler expresion: Filter by using reguler expression
Exclude this dimension: This dimension will be ignore from the analysis and is not going to be raised as an explanation factory.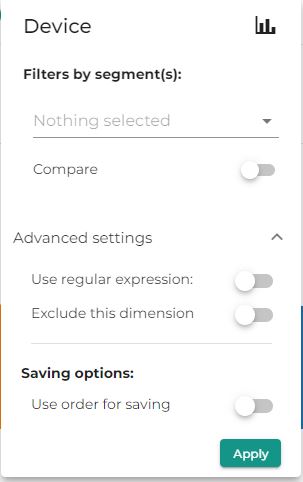 Excluded dimension:
Dimension (column of your dataset) you want to exclude from the analysis. Click on the cross of the pill to exclude the dimension.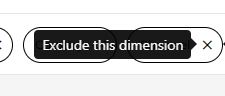 You then need to click on the bin to re-include the dimension.